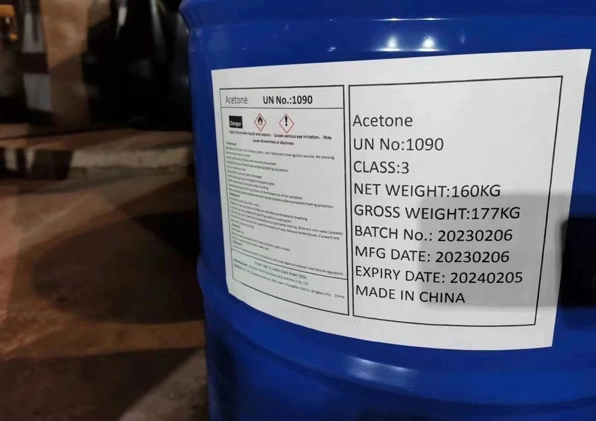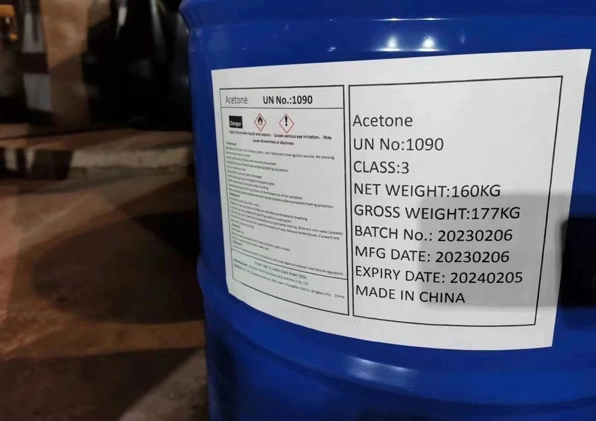 Acetone
Acetone is the basic organic raw material and low boiling point solvent. It is a colorless volatile and flammable liquid with slight aroma. It is an important raw material for the manufacture of acetic anhydride, chloroform, organic glass, epoxy resin, polyisoprene rubber, etc. It is miscible with water, methanol, ethanol, ethyl ether, chloroform and pyridine. It can dissolve oil, fat, resin and rubber.
Features of Acetone
It has a low melting point, colorless liquid at normal temperature with a sweet odor, and can evaporate quickly.
Specification of Acetone
CAS #
EC Number
Hill Formula
Chemical Formula
Molar Mass
67-64-1
200-662-2
C₃H₆O
CH₃COCH₃
58.08 g/mol
Description
Synonyms
Dimethyl ketone, Propanone, 2-Propanone
Product Information
CAS number
67-64-1
EC index number
606-001-00-8
EC number
200-662-2
Hill Formula
C₃H₆O
Chemical formula
CH₃COCH₃
Molar Mass
58.08 g/mol
HS Code
2914 11 00
Physicochemical Information
Boiling point
56.2 °C (1013 hPa)
Density
(d 20 °C/ 4 °C)
0.79 g/cm3 (20 °C)
Explosion limit
2.6 - 12.8 %(V)
Flash point
-17.0 °C
Ignition temperature
465 °C DIN 51794
Melting Point
-94.0 °C
pH value
5 - 6 (395 g/l, H₂O, 20 °C)
Vapor pressure
245.3 hPa (20.0 °C)
Solubility
1000 g/kg
Storage and Delivery of Acetone
For the package, Acetone is available in drum and iso tank. The drum contains 160kg. The container load for 20FCL is 12.8 tons. The container for 40FCL is 24.32 tons with pallets and 24.96 tons without pallets. The iso tank contains 18.5MT.

Contact Us for More Information about Douwin Chemicals
Get in Touch
Email us with any questions or inquiries or use our contact data. We would be happy to answer your questions.
Related Organic Chemcial Compounds